Read what our Clients had to say about Chef Valerie:

"Hey Valerie! I hope you are well. Our sister is visiting is from Juneau Alaska on July and Tom wants to have a few friends over for dinner while she is here. We are hoping that you are available to prepare dinner for 5-7 people. I will know details as we get closer however i wanted to make sure that you were available to be our personal chef. All of our previous guests were absolutely blown away by the menu you prepared. The birthday friend kept going on about the meal, the service and the overall evenings experience....as he and his wife were leaving he kept saying that he felt like a "King". Thank you. Let me know if we can lock You in my dear!" – Claire Blocker, Fort Mill, SC

"Dear Valerie, I wanted to drop you a note to express my appreciation for the wonderful dinner you prepared for our family on Saturday. It was a pleasure meeting you and getting to know a little of your background and current professional endeavors. My family has raved about the food and while all of it certainly met more than our expectations, the blueberry/white chocolate bread pudding with bourbon crème anglaise was the crowning touch to the otherwise perfect meal. Thank you again for the lovely evening with my family." - Dorcas Regelbrugge, Charlotte, NC
"Hi Valerie, This is hard for me to actually say; however, your bread pudding and the sauce was the very best I have eaten. Everyone raved about it! The reason it is hard for me to say is because my Mom has always made fabulous bread pudding and I really didn't want to take that distinction from her! She is still the queen of fried chicken, though. Thank you and I will be calling you after our renovation" – Marnie – Mooresville, NC
"Valerie, What an unbelievable experience to be served a 5 star meal in my own dining room....in my pajamas! The service you provide is truly first class. Your friendly and casual demeanor coupled with your tasty tuna/avocado filled wontons, roasted butternut squash & pumpkin soup, tilapia to die for and a warm brownie topped with ice cream & raspberry coulis for dessert.....my mouth waters just thinking about it. You will certainly come to our home again and we will be referring you to our friends!" – Lars & Julie Hedenborg, Rock Hill, SC

"My son and daughter gave me and my mother a gift of a personalized cooking class taught by Valerie. I was blown away! I'm a pretty darned good cook, but this gal is exceptional! There's a true difference between a "cook" and a "chef" - Valerie is a CHEF! From start to finish, it was a great experience. The menu was delicious. She was patient and not overbearing in instruction us on some techniques we had never tried. She was generous with her encouragement and praise. And she left the kitchen spotless and the dishwasher ready to run! Bravo, Valerie! Encore!" – Connie Knight –Charlotte, NC

"Menu Sounds Great!" We are really enjoying the last meals you made. We loved every single one of them! We're at the beach and took them with us. We both loved the Pasta tossed w/ Salmon, Spinach, and Light Lemon Cream Sauce. We've Loved this menu!!! Cannot wait to try the blackberry jalapeno glazed Pork Tenderloin!!" - Cat Malone- Piper Glen, NC

"Valerie, Just wanted to say Thank you so much for doing our 30th anniversary dinner and making it a night we will never forget. It was the best meal of our lives! Even after going to the beach for two weeks before our meal, you made the best crab cakes we have ever eaten! We will defiantly be referring you to all of our friends! " - Gary & Meg Hancock – Quail Hollow, NC

"I have had many cooking classes and am quite good as amateur chef. Valerie has just started tutoring me in cooking. It was VERY clear who the amateur (me) is and who is the professional (Valerie). She's excellent. I wanted to learn more about French cooking. So she made Coq au Vin while I observed and made notes. It was spectacular! She's a skilled & talented professional chef and also has a pleasant and pleasing personality. I am comfortable in recommending her to ANY cooking event or job opportunity." – Mike Dunn, Cornelius, NC


"We had the Chicken Picata and the Beef Wellington last night. It was DELICIOUS!!! Thank you so much for everything we truly appreciate it all the work you have done for us! You are very professional and have your system set up for perfection!" – Eleanor Pettus – (Cancer Patient) Lake Wylie, SC

"Valerie, KUDOS to you! Everyone LOVED your wraps! I will be happy to do business with you again in the future! Thanks so much!" – Rebecca Bovaird – OrthoCarolina Ballantyne, NC (Corporate Luncheon)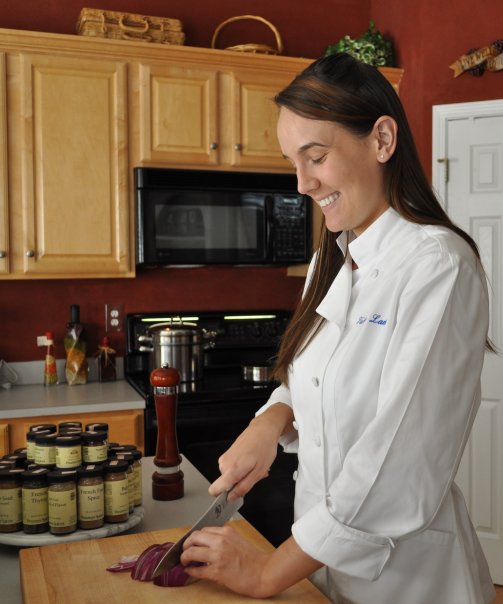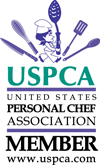 Charlotte Business Journal - Friday June 19th, 2009
Big Ideas
Keeping growth on firm's Menu
by: Adam O'Daniel Staff writer
Valerie Lamey is still perfecting the ingredients, but her business has already satisfied her entrepreneurial cravings.
Lamey is the owner of Just in Thyme Personal Chef Services. Her company provides clients with a personal chef on a regular basis or just for special events. The recession has taken its toll on the business, but she's finding new concoctions to keep her menu diverse and profitable.
What strategies are working for you now?
I am currently attending some of the Charlotte Chamber events and being a restaurant sponsor so people can actually try my food and see my face. A lot of my business is referral-based, so I'm trying to mail out postcards, put brochures in mailboxes and just use my mouth as my best tool.
How have you adapted your business?
I started out just doing the personal-chef experience, and that was it. Then I got contacted to do a baby shower, then a birthday, etc., so I decided to add the whole dinner-party and catering aspect to my business.
Since then, I have added cooking classes to my business. I have also had a client who wanted a dinner party but didn't want any of her guests to know that she didn't cook the food. So I started my secret-chef service, where I come in early, prepare everything and run out just before guests arrive. They never know the host didn't prepare the food, and she gets all glory. I also have a new date-night service for clients who are trying to keep their relationship interesting and want a private chef for the night with a romantic gourmet dinner for two.
What's your signature dish?
I'd have to say my signature dish is a blackened filet of halibut with mango salsa, coconut risotto and grilled asparagus with a lemon burre blanc. But I love experimenting with different cuisines and always learning something new.